5 Awesome Things on eBay this Christmas
5 Awesome Things on eBay this Christmas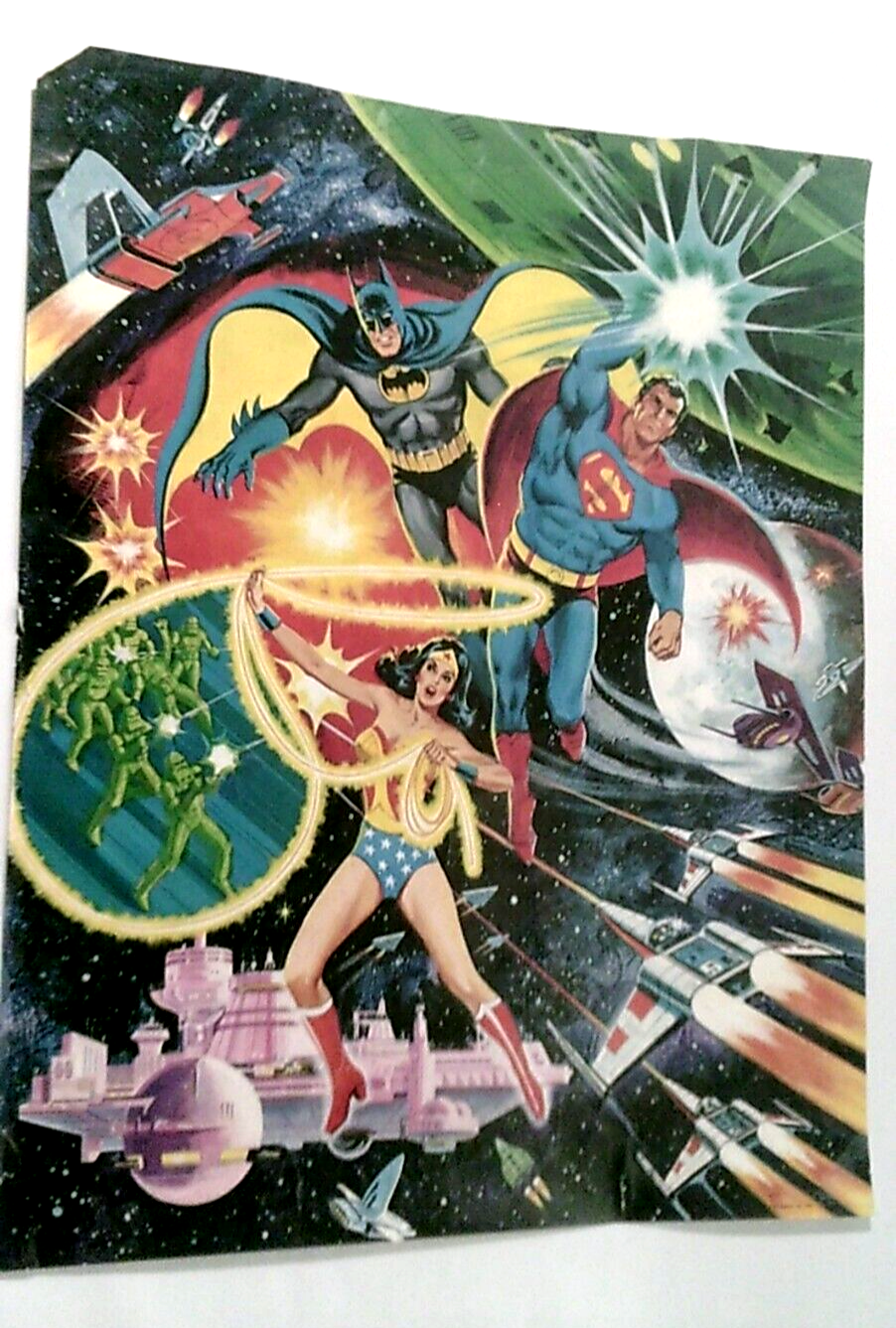 My friend Chris from the Fire and Water Pod Cast sent me this and well, it's from that time where Star Wars owned everything. Even the Super Friends had to show light sabers and space battles to keep up. Now, I swear I've seen that Space Station before in a show, anyone recognize it?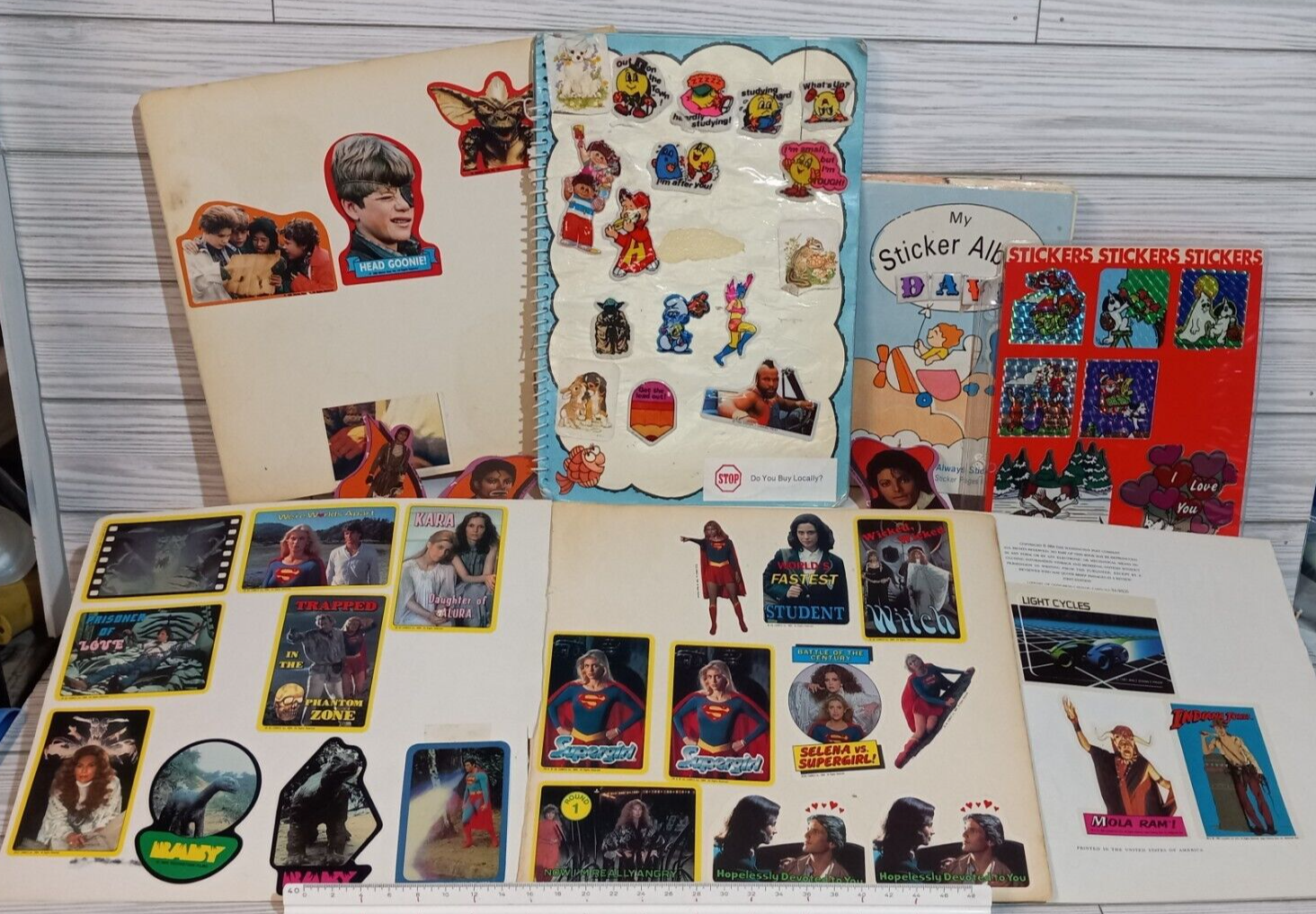 Ever since I had that epic sticker book find a while back, these kind of auctions bring me more joy than a day with Batman. This lot especially feels like a great time warp into movie failures that are beloved. I mean when was the last time we talked about "Baby: Secret of the Lost Legend?" it had the Prisoner and the Greatest American Hero in it! There's also stickers from that Superhero movie sponsored by Popeye's Chicken. If there is a Peter O'Toole sticker, I want it!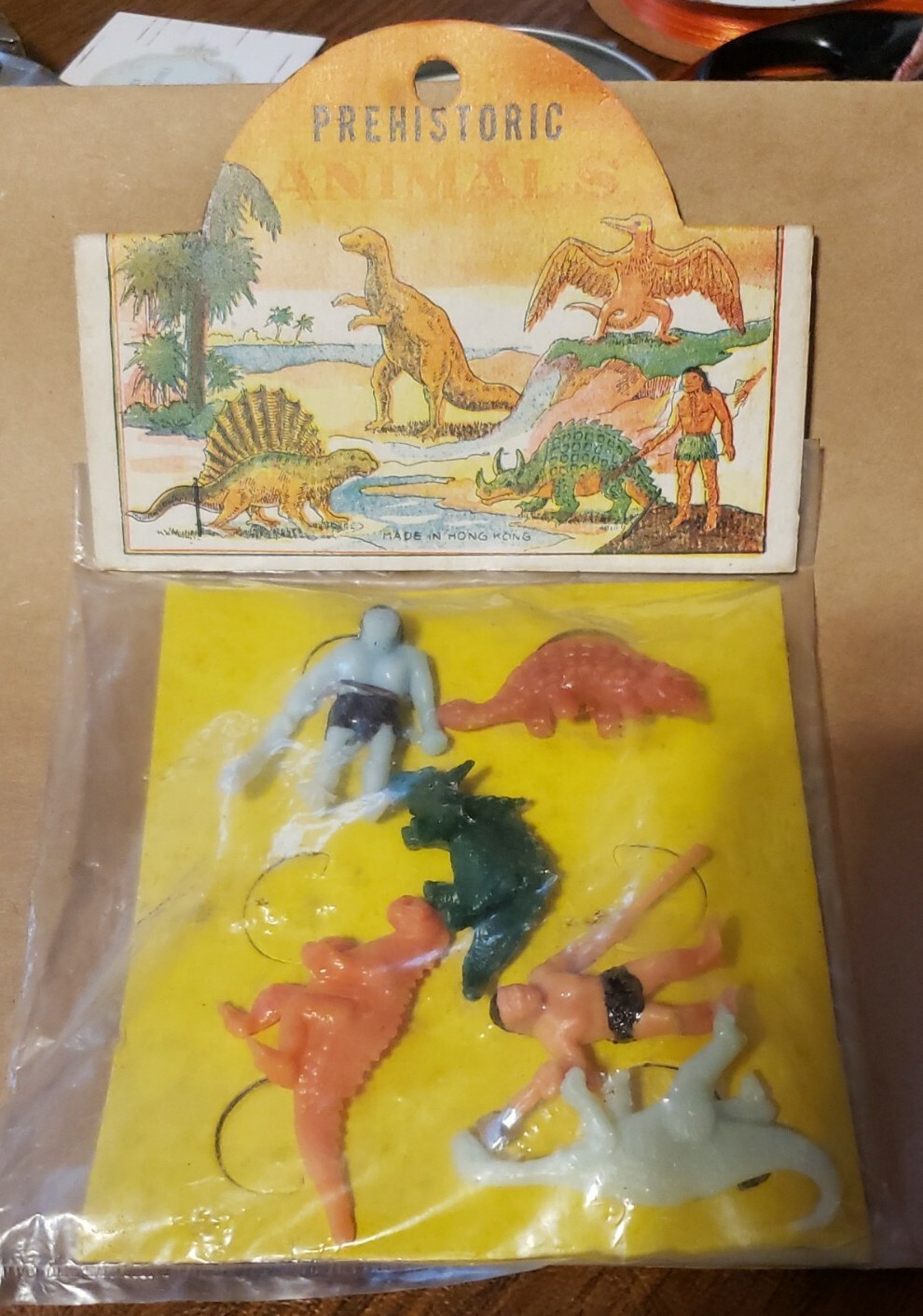 I know, you're thinking "What's this guy's thing with dime store dinosaurs?" and ok, that's accurate but at the same time quite hurtful. What sets this apart is the appearance of cave people, sloppily done, horribly out of scale cave people. Oh how I love them.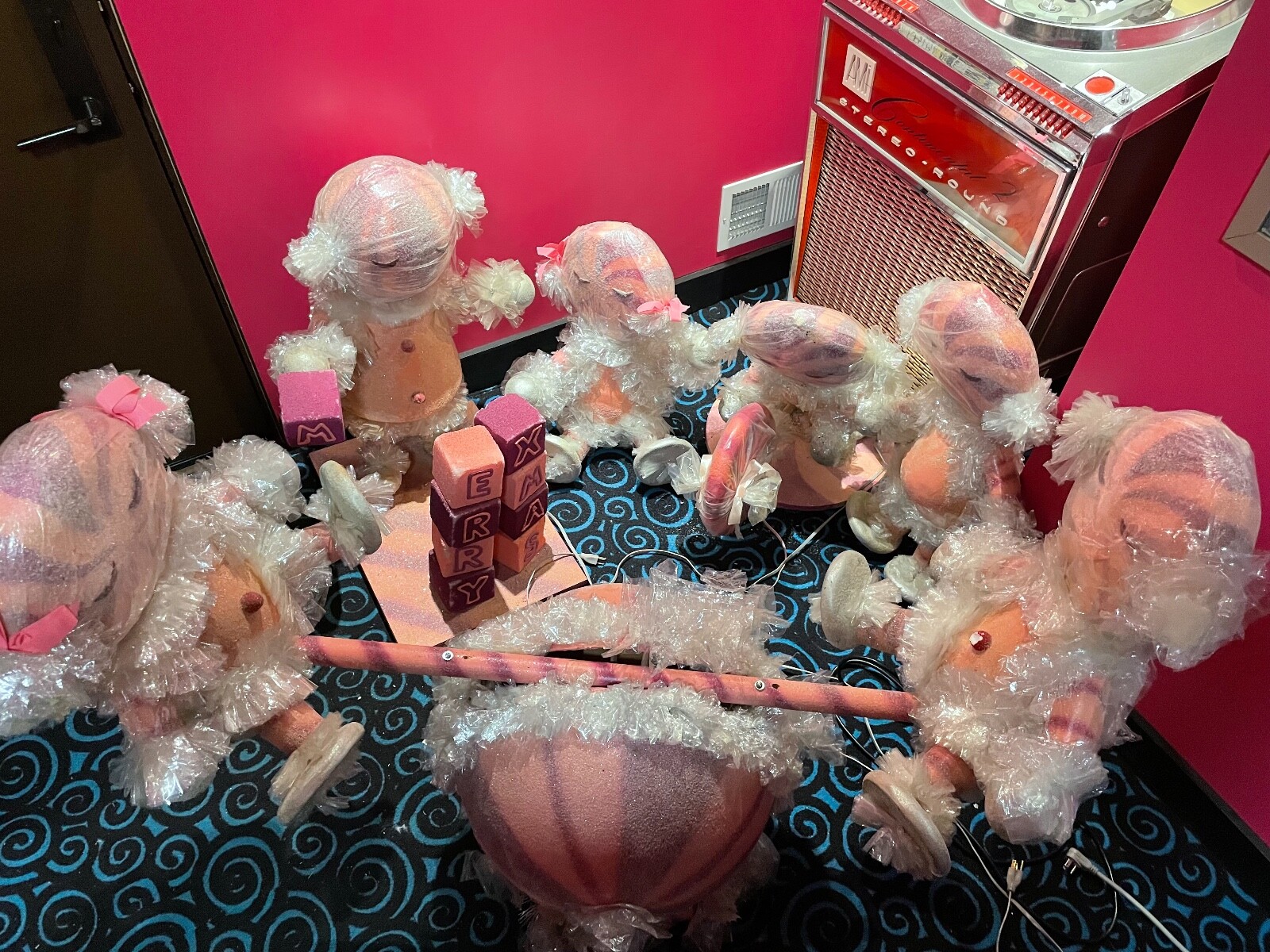 Department store window animatronics never cease to amaze me. I'm really not up on the lore of the Candy Kids but the seller (A good egg) is and it's super cool to look at these things. 
Remote Control Santa Bots, just like from the Simpsons! There's two of them because they always travel in pairs like the Sith? I made that last part up but Santa's Light Saber is red, just sayin'.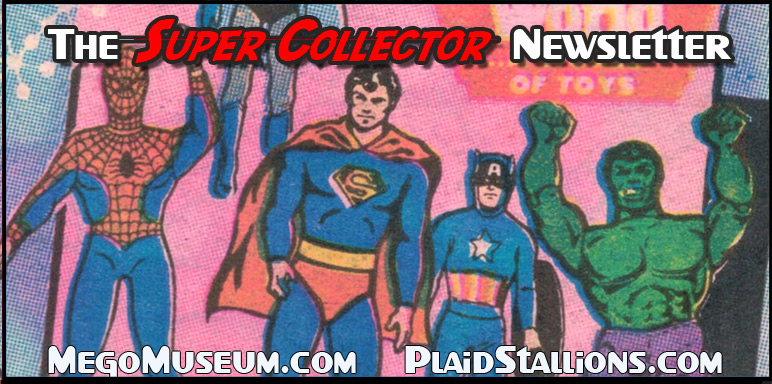 The PlaidStallions Polyester Pals have arrived and come in green and orange. Be the first kid in the sandbox with our Podcast mascots!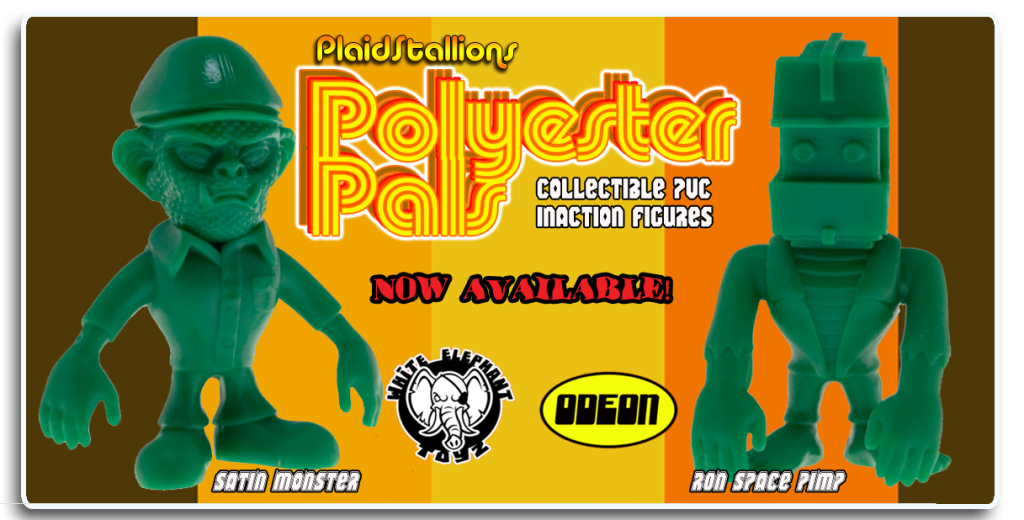 Do you miss toy collector magazines?
That's why we created Toy-Ventures magazine, an old-school print publication dedicated to vintage toys from the 1960s to the 1990s. Each issue is packed with never before seen images and information written by some of the top collectors. We've got 7 issues and climbing; please check our page here or visit our store.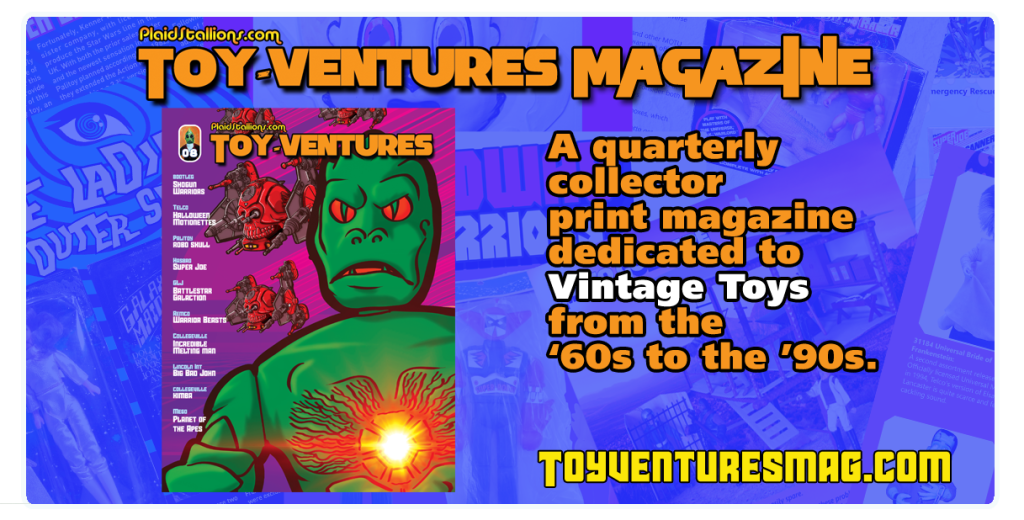 Our latest book is "Knock-Offs: Totally Unauthorized Action Figures" a love letter to cheeky copyright-infringing toys. You can get this new book via the PlaidStallions Shop, On Amazon (Affiliate Link) or eBay (eBay Link)
FACEBOOK GROUPS FROM PLAIDSTALLIONS

Pod Stallions is based on our podcast and is one of the most fun groups on Facebook. Toys, Comics, Movies, TV, it's all up for grabs and remember folks, you keep the glass! If you like our show, then you have found your tribe.

Mego Knock Off Headquarters– The leading group discussing 70s Dime store knock-offs and bootleg action figures, we talk vintage toys and not others. We know the difference between Astro Apes and Action Apeman.  It's a fun group where we talk about Lincoln International, AHI, Mighty Gary, Tomland, Bogi, Demo Man, Mortoys, and other generic greats.
5 Awesome Things on eBay this week
#christmas #superheroes #racktoys