1988 Ben Cooper Halloween Catalog – Silverhawks – GI Joe – Universal Monsters
1988 Ben Cooper Halloween Catalog
I couldn't go this Halloween season without at least adding one Costume Catalog to the site, and this year it's a real winner. 
The 1988 Ben Cooper catalogue shows "Smock and Mask" costumes still going full steam with the hottest licenses going like Superheroes, GI Joe and the Universal Monsters.
However, the real joy in this catalogue is all the weird and obscure licenses in here. 
It's interesting that Ben Cooper had the Real Ghostbusters and the Filmation Ghostbusters, really covering all the bases. The Little Rascals are a big surprise here, didn't know that still played this late in the game.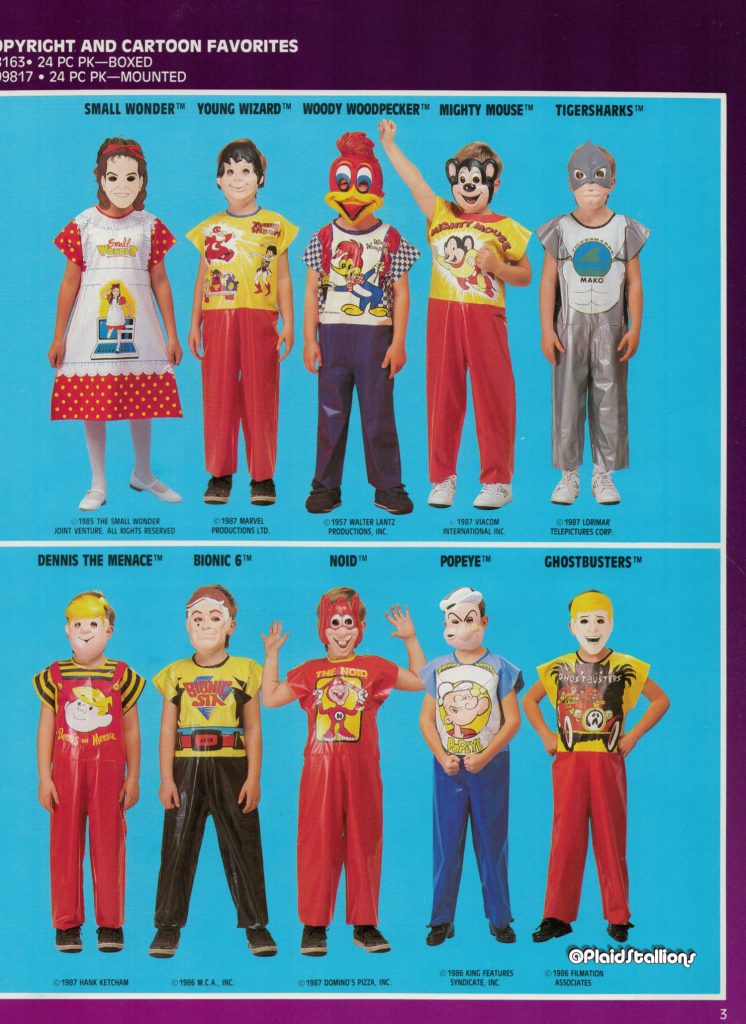 Where to begin with this page? Small Wonder got a costume but "out of this world" gets a pass? That's not fair, I wanted a Doug McClure costume.
While I think Tigersharks and Bionic Six are pretty obscure, nothing for me tops "Young Wizard" a Marvel show that very few people have seen.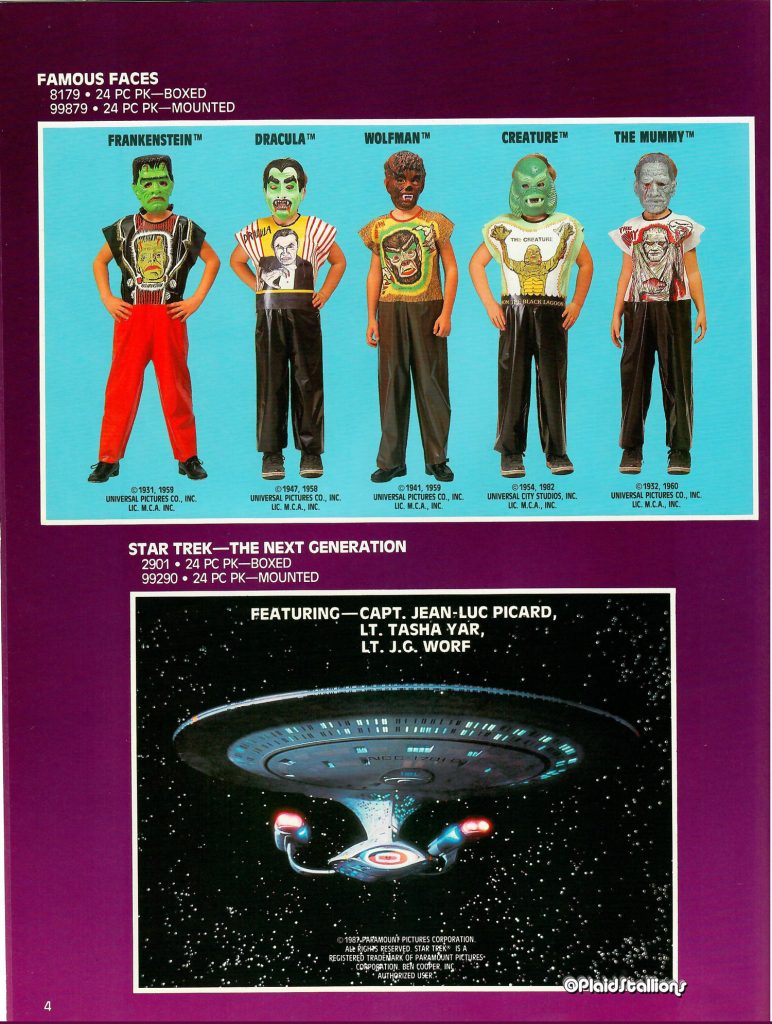 I am sad to announce that some of these Universal Monster costumes never saw release. The Star Trek TNG costume choices are curious, especially Tasha Yar which seems short-sighted.
The Top Row are evergreen licenses all still available today, the bottom row is all cult favourites from the 1980s. I had no idea Sky Commanders got a costume. I barely remember that toy line.
Our newest book "Knock-Offs: Totally, Unauthorized Action Figures," is now available. It's 130 pages of bootleg goodness.
You can get this new book via the PlaidStallions Shop , On Amazon (Affiliate Link) or on eBay (eBay Link)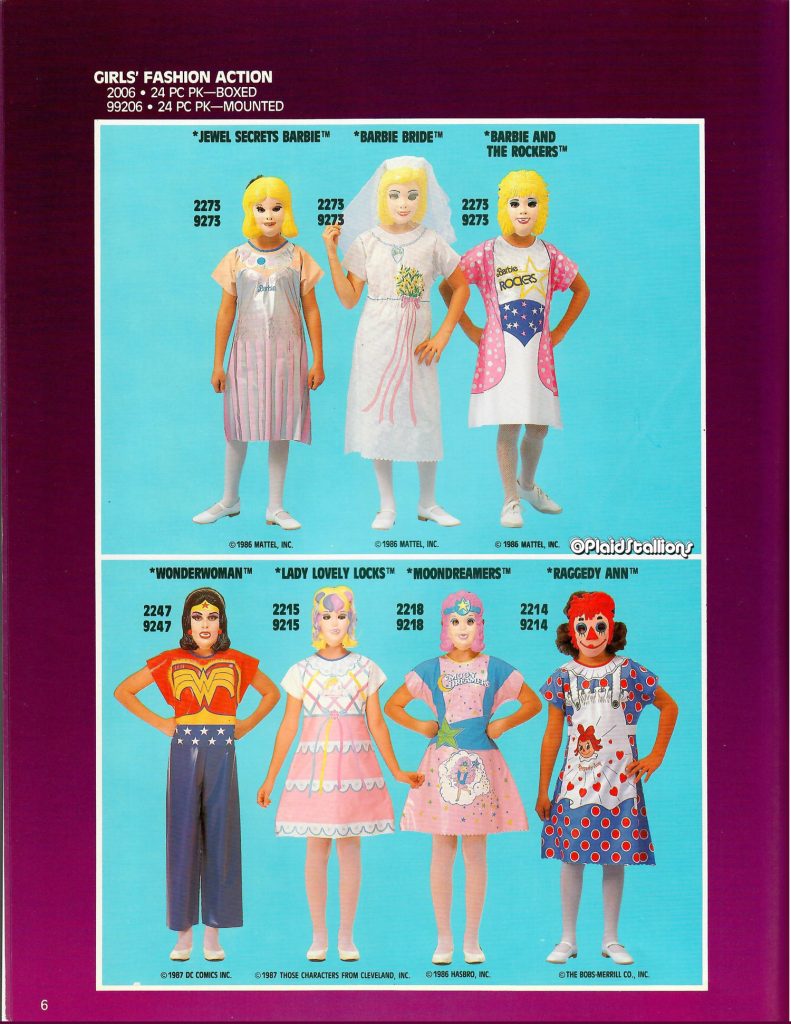 Barbie and the Rockers is a real step up from her usual Bride or Nurse.
Back in my day, people couldn't see Snufflupagas (is that Greek?) and we were better off. Not to get off on a rant but that's everything wrong with society these days! /grumpyoldmanfakerant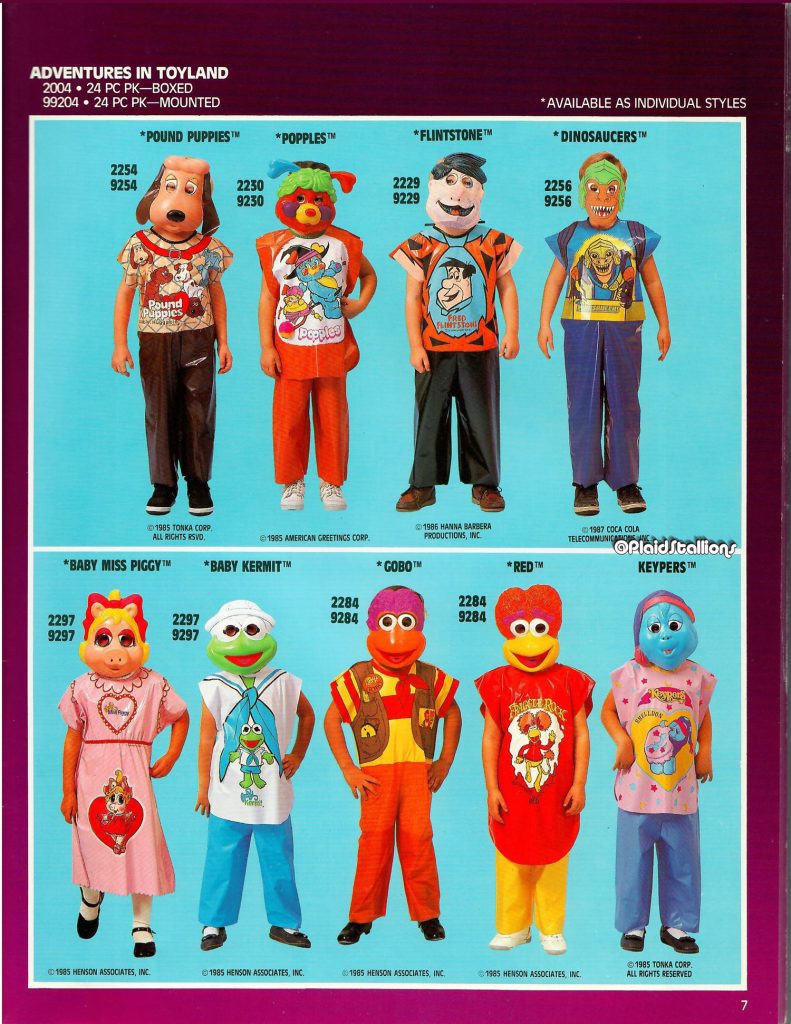 I swear to you, I had never heard of Dino-Saucers until the mid 2000s. No memory whatsoever, also what is a "Keyper?"
Fraggles and Muppets, I totally remember.
Aw look at l'il Peter Parker.
Loving the skirt on that Wonder Woman set, it rocks!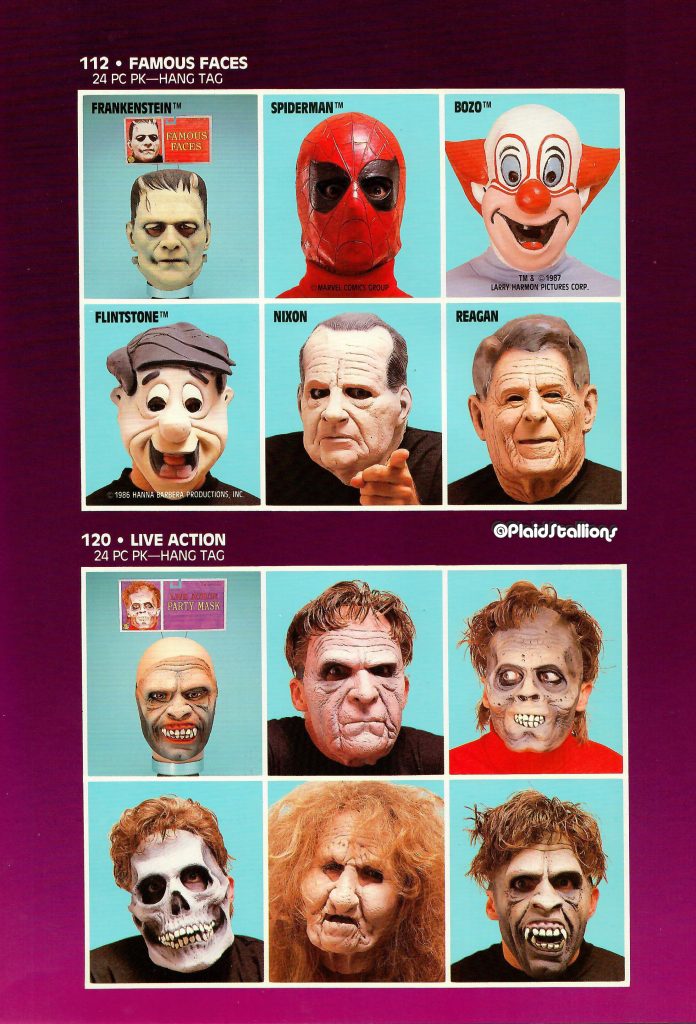 That Spider-Man mask looks exactly like the Ideal Captain Action Mask and below him are the two Bank Robber dudes from "Point Break!" epic movie brah!


Do you miss toy collector magazines?
That's why we created Toy-Ventures magazine, an old-school print publication dedicated to vintage toys from the 1960s to the 1990s. Each issue is packed with never before seen images and information written by some of the top collectors. We've got 7 issues and climbing; please check our page here or visit our store.
Our book Rack Toys, Cheap, Crazed Playthings is now available again! Order through our Affiliate Link
Order Rack Toys 2.0 Here through our Affiliate Link►https://amzn.to/3Bkm9z1
FACEBOOK GROUPS FROM PLAIDSTALLIONS

Pod Stallions is based on our podcast and is one of the most fun groups on Facebook. Toys, Comics, Movies, TV, it's all up for grabs and remember folks, you keep the glass! If you like our show, then you have found your tribe.

Mego Knock Off Headquarters– The leading group discussing 70s Dime store knock-offs and bootleg action figures, we talk vintage toys and not others. We know the difference between Astro Apes and Action Apeman.  It's a fun group where we talk about Lincoln International, AHI, Mighty Gary, Tomland, Bogi, Demo Man, Mortoys, and other generic greats.
Toy-Ventures: Return to Monster Bash
1988 Ben Cooper Halloween Catalog