1984 Galoob Mr.T Catalog
In the early 1980s, a gentle, gold-chained-covered giant came into our households and told us to read the bible and drink our milk and in doing so, captured our hearts. Mr. T was exactly what Reagan-era America was looking for, a straight-laced tough guy whose look hinted at rebellion.
The ensuing "T Mania" storm was hard and fast with merchandise pouring out everywhere, riding the crest of this was Galoob, who made one of their smarter decisions in capitalizing on America's unlikely sweetheart.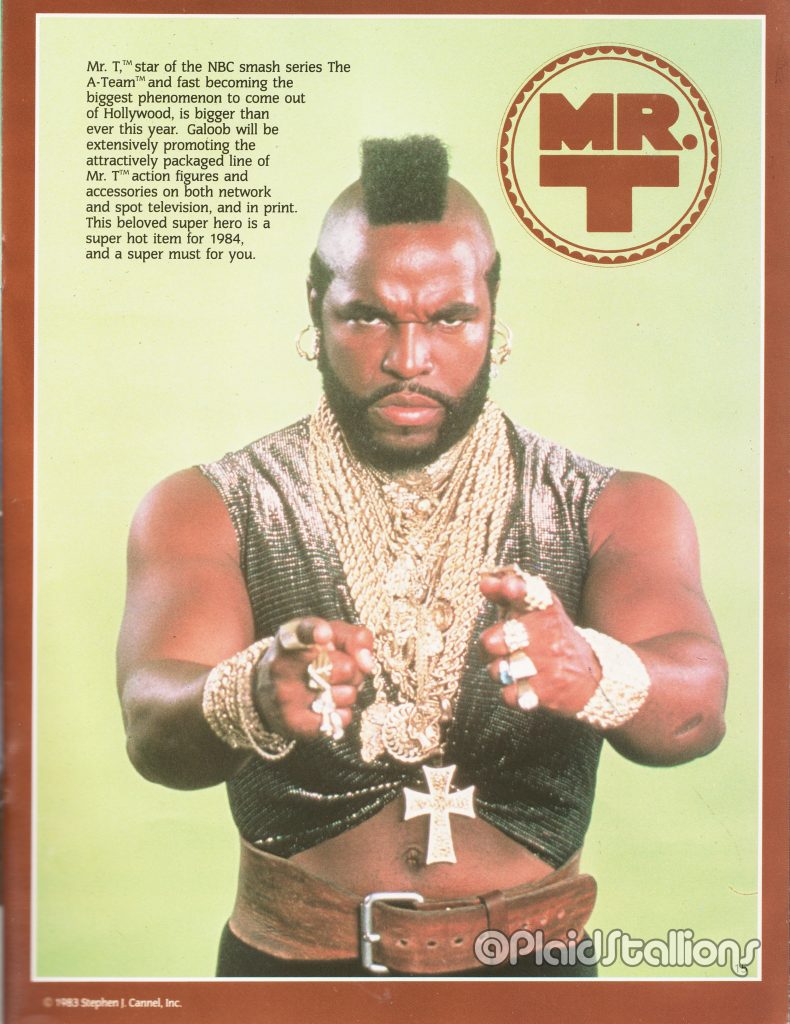 Mr. T truly was everywhere during this time including Saturday morning and the cereal aisle.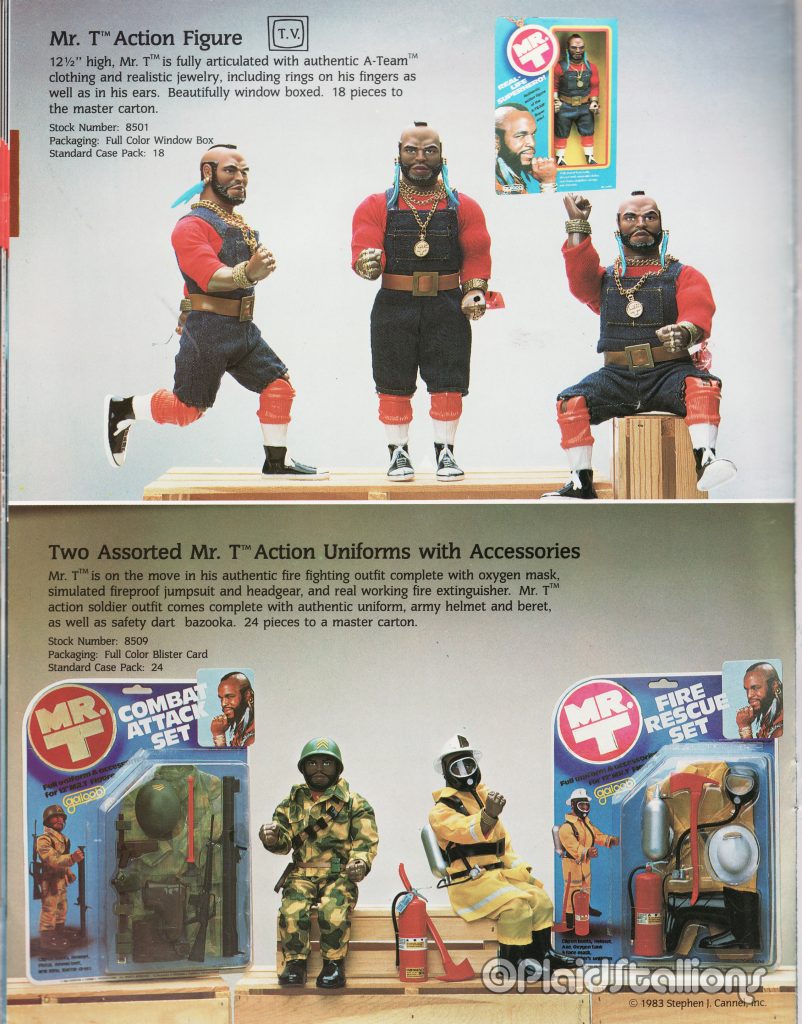 The 12″ Galoob Mr. T action figure would have given the Mego 12″ Hulk a run for its money. I especially love the Army and Fireman sets which remind me of Big Jim or Action Jackson.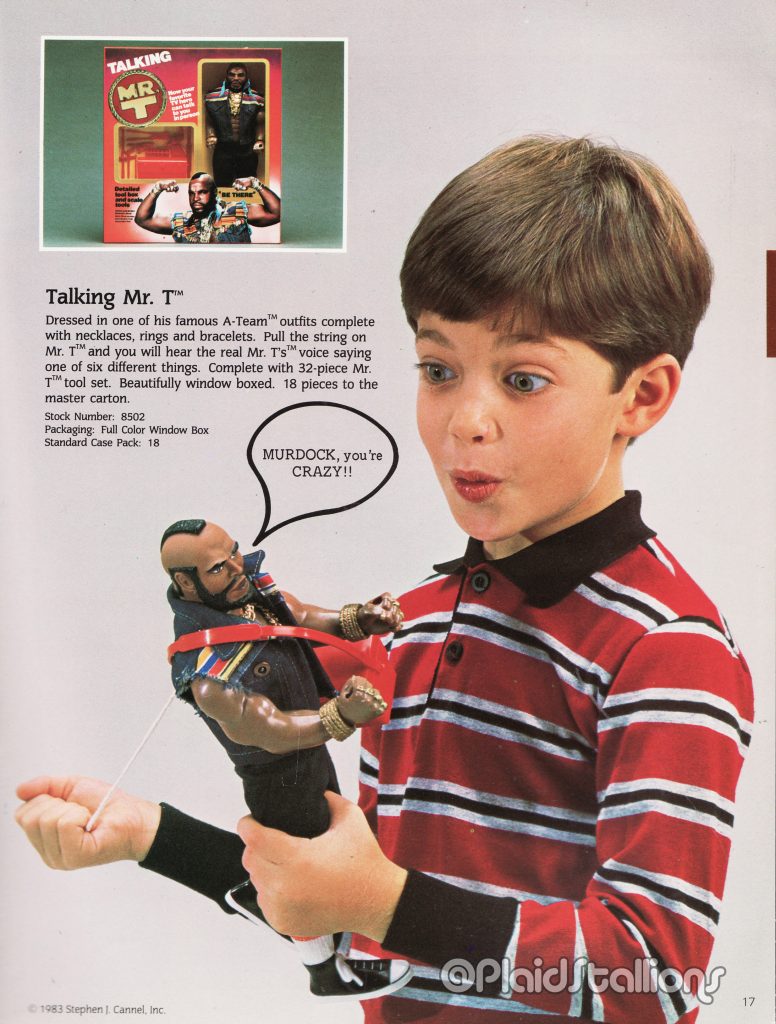 Talking Mr. T is a logical item and I guess this is actually meant to be B.A. Baracus, his character from the A-Team? I love the kid's expression here, he is channelling Kenneth Williams from the "Carry On" films.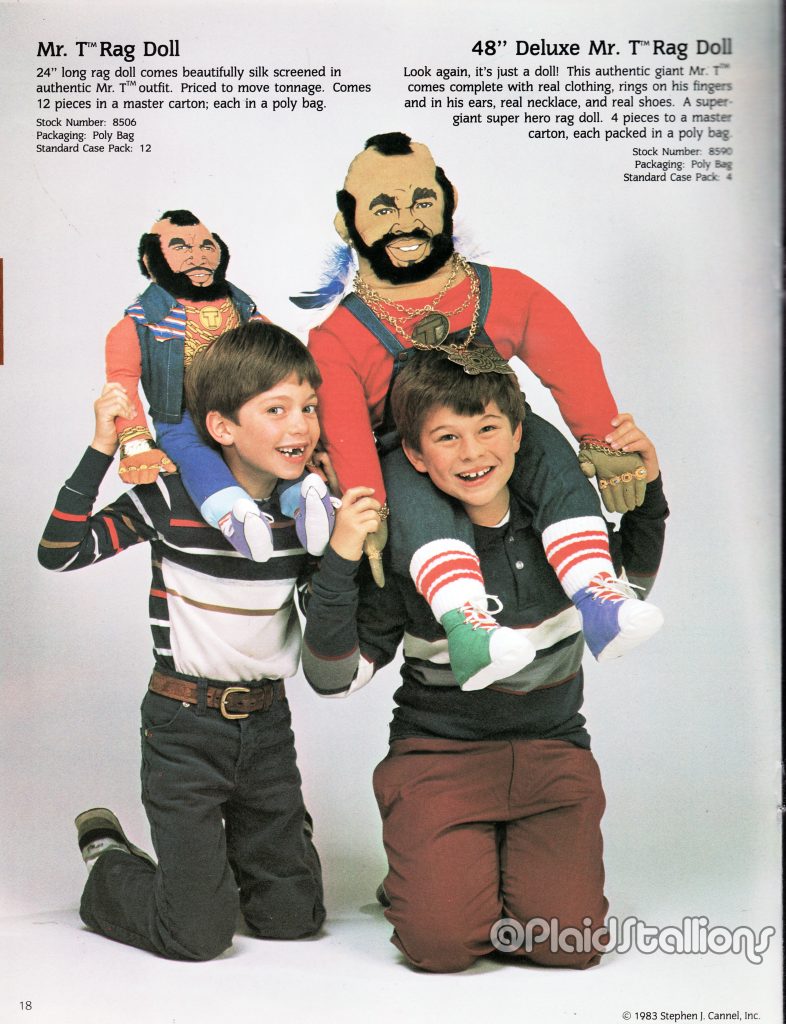 I could be wrong but I don't think these Galoob Mr. T rag dolls were ever produced. So children didn't get to cuddle up with him every night like they could with a Wrestler.
You can now subscribe to Toy-Ventures magazine, never miss an issue and be insured a pre-order premium every time.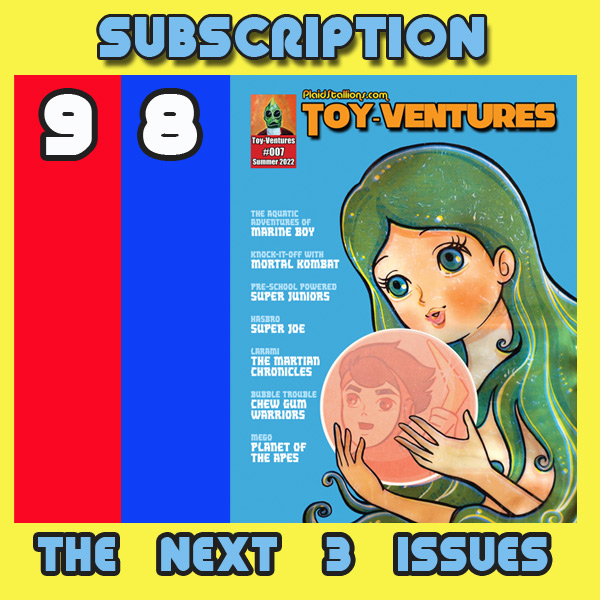 Check out our Toy-Ventures Live Stream
We talk about issue 7, Tura Satana and some other little surprise things heading your way in 2022.
Oh yeah, we're doing an action figure!
Check out our announcement for the Tura Satana Action Figure, coming soon from White Elephant Toyz and us! If you're a fan, please spread the word on social media. We'd really appreciate it!
Our newest book "Knock-Offs: Totally, Unauthorized Action Figures," is now available. It's 130 pages of bootleg goodness.
You can get this new book via the PlaidStallions Shop , On Amazon (Affiliate Link) or on eBay (eBay Link)
Our book Rack Toys, Cheap, Crazed Playthings is now available again! Order through our Affiliate Link
Order Rack Toys 2.0 Here through our Affiliate Link►https://amzn.to/3Bkm9z1
FACEBOOK GROUPS FROM PLAIDSTALLIONS

Pod Stallions is based on our podcast and is one of the most fun groups on Facebook. Toys, Comics, Movies, TV, it's all up for grabs and remember, you keep the glass! If you like our show, then you have found your tribe.

Mego Knock Off Headquarters– The leading group discussing 70s Dime store knock-offs and bootleg action figures, we talk vintage toys and not others. We know the difference between Astro Apes and Action Apeman.  It's a fun group where we talk about Lincoln International, AHI, Mighty Gary, Tomland, Bogi, Demo Man, Mortoys, and other generic greats.
1984 Galoob Mr T Catalog