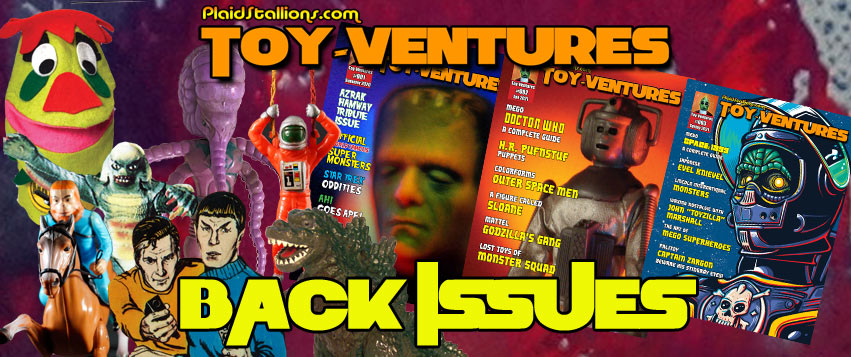 Toy-Ventures Magazine Back Issues
This page will be our repository for our back issues of PlaidStallions Toy-Ventures Magazine. If the issue is marked sold out, it's gone forever. Right now we are still offering the Monster Squad Trading Cards premium  from Issue 2. 
Toy Ventures Issue 1
Issue #1 of Toy-Ventures magazine is a salute to the celebrated toy company Azrak-Hamway International Set Phasers for Fun– How AHI turned Star Trek's phasers and the USS Enterprise itself into major profits.
The Guide to World Famous Super Monsters– The most comprehensive gallery of AHI's Universal Monsters action figure compiling every known figure and packaging variant plus we even delve into company history and solve a few mysteries.
Now, SkyDive Like Apes!-The weird world of AHI's Planet of the Apes toys.
I wanted the Best!– Steve recalls his long journey to own the fabled AHI KISS microphone.
Rack Toys:1999-A deep dive into the world of Space:1999 merchandise including some toys owned by Martin Landau himself.
Crime Fighting Drop Zone- We talk about the long-running series of Super Heroes on Parachautes including card variations and prototypes.
Adorable Horror- The Official World Famous Super Monsters Bend 'Ems!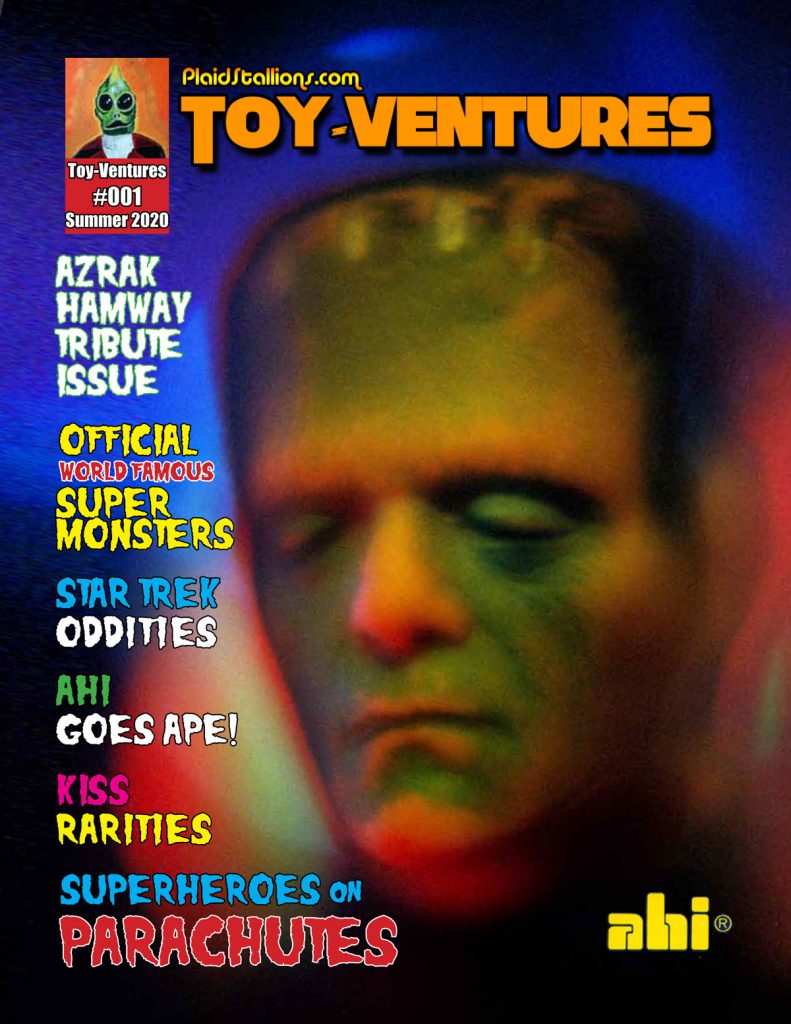 Toy-Ventures Issue 2
Issue 2 of  Toy-Ventures magazine covers a number of genres and has some exciting new voices from the hobby.
H.R. Puppet Stuff! By Kroffty
This colorful piece tracks the careers of the legendary Sid and Marty Krofft through puppet merchandise, it will make you smile.
The Lost Outer Space Men
Contributor Steve Fink returns with another tale of tracking down an impossible grail or in this case, six, the legendary second series of Colorforms Outer Space Men.
Godzilla's Gang
Ray Miller does a deep dive into the 1978 Mattel "Godzilla's Gang" toyline, highlighting their origins. This is a lot of fun.
The Toy-Ventures Guide to Denys Fisher Doctor Who
One of my passions, the Mego produced Doctor Who toy line is explored in great detail with prototype shots, variations and never before seen reveals.
A figure called Sloane
Chris G blew us away when he discovered the abandoned Kenner Toy Line to the obscure 1970s TV series "A Man Called Sloane". Did I mention that I love that show?
Oscillating Vibrations
A love letter to the Saturday morning series "Monster Squad" with a complete merchandise guide featuring never before seen items such as the Ideal Toys prototype figures..
TOY-VENTURES ISSUE 3
Toy-Ventures magazine issue three content includes:
Beware His Stingray Eyes-
Tony Roberts host of the analog toys channel on Youtube tells the story behind the development of Action Man's greatest Foe Captain Zargon.
Megobase Alpha – We take a detailed look at Mego and Palitoy's wonderful Space:1999 range with a complete collector guide including the line's history and development, all known variations, knock offs and it's resurrection in the 2000s.
The Challenge Machines, Leave it to Popy of Japan to take the Evel Knievel toy concept and some home grown tv heroes to the mix. Corey LeChat gives a beautiful look at these winning toys, you'll want to play with them!
The Art of Mego Superheroes – Chris Franklin has created a knock-out piece sourcing the iconic origins of Mego's World's Greatest Superheroes brand.
Collector Spotlight – Our first interviewee is pop culture author John "Toyzilla" Marshall as we talk about the hobby and show examples from his incredible, eclectic collection.
Toy-Ventures Guide to Lincoln International Monsters
The centerpiece of issue 3 is an exhaustively researched guide to this incredible and highly collectible line of Monster Toys, including company history and a visual guide to every known figure and packaging variation.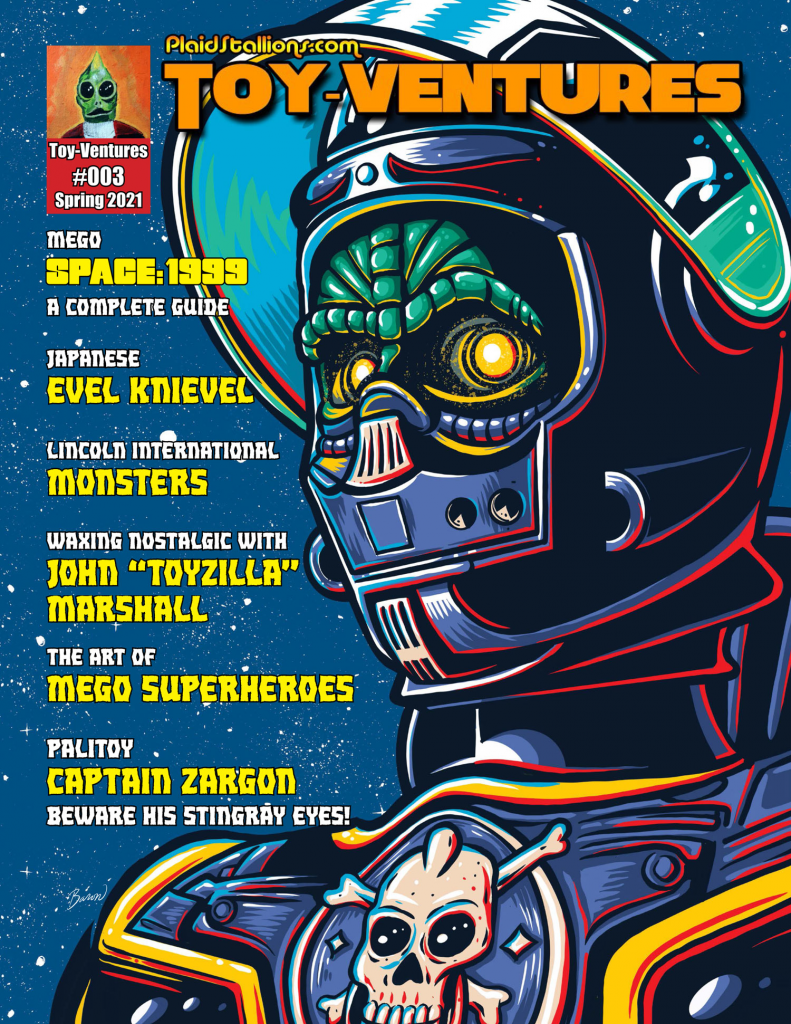 TOY-VENTURES ISSUE 4
Toy-Ventures magazine issue tfour content includes:
The Munster Mash– We're visiting 1313 Mocking Bird Lane when Corey LeChat gives us a tour of one of the greatest collections of Munster merchandise ever assembled. Many of these items have never been featured in print before.
Apemen down under– William Wilson has written a wonderful piece about this Australian line of Planet of the Apes knock off figures called "The Action Apemen"
The Expandable ones- David Lockwood explores the stretchable superheroes and villains made by Funstuff in the early 1980s.
He's Glump! He's Glump!- We talk about the weird world of dime-store action heroes created by Durham from Yung Kung Fu to Glump the Caveman, it's a comprehensive guide.
Super Amicis– A fun pictorial guide to this cheeky line of figures based on the Mego World's Greatest Superheroes.
The Toy-Ventures Guide to the Mego Mad Monsters– This issue we take an exhaustive look at this wonderful glow in the dark figure line by Mego with input and anecdotes by Mego's own Marty Abrams.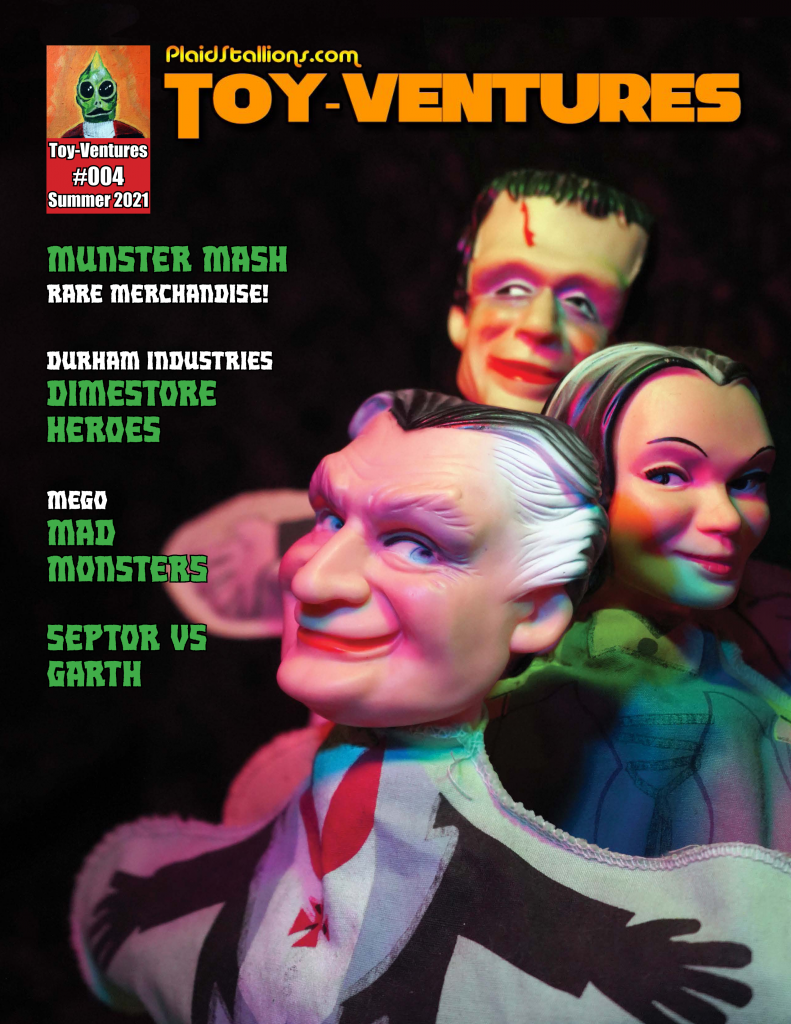 TOY-VENTURES ISSUE 5
Toy-Ventures magazine issue five content includes:
I'm Not Like Other Guys- New contributor Tyler Ham joins us with a wonderful look at the cheeky line of toys based on the Michael Jackson "Thriller" video. The Powco toys Thriller line is charming 80s knock-off gold.
ElectroWow- David Lockwood gives us the history of the amazing exploits of Ideal's Electroman and Zogg, bring some batteries.
The Ballad of Baby Frankenstein- Corey LeChat explores Universal's cute version of the Frankenstein Monster and all the associated merchandise.
Toydom Come- Comics legend Alex Ross sits down with PodStallions' Jason Lenzi and talks about his favourite vintage toys and reveals several fun bits of trivia.
Ms. Peel, we're needed– Corey LeChat explores the rare 1960s figure based on the Avenger's most popular character, Emma Peel.
Mego Planet of the Apes Part 1– A multi-issue series focusing on the Mego Planet of the Apes line. Part one is a discussion with Marty Abrams about his nearly 50-year relationship with the brand.
SPECIAL LIMITED TIME OFFER- If you order through our store, your issue will come with a limited-edition Mr. Rock Cosmic Space Flyer. Supplies are limited, this will not be available through any other offer.
TOY-VENTURES ISSUE 6
 Ultra Mask – Corey LeChat
Unmasking the 70s Ultraman College Halloween costume series.
 S.T.A.R Wars – David Lockwood
The Knock-Offs that defeated The Empire, the Ideal Toys Star Team. It's hard to defeat the Knight of Darkness.
 S'up Riches – Jonathan Sternfield
Exploring the short-lived toy company Dimensions for Children and their line of Richie Rich Toys.
Mego Planet of the Apes Part 2 – 
Variations of the Apes! We continue our ongoing coverage of the Mego Planet of the Apes line with this look at the wave one figure variations.
Lost Land of the Lost – Brian Heiler
Aw man, we could have had Sleestaks! A showcase of the 1976 LJN toy line that never was.
Mall of Justice Moment – Alan Kaplan
Spider-Man and Alan in Child World with a pile of cool Remco toys.
SPECIAL LIMITED TIME OFFER- If you order through our store, your issue will come with a limited-edition fold-out Star Team movie poster based on the classic Star Wars rip-off "Star Crash".This limited edition Dave Waugh poster will sell out fast.