Plaidstallions The Top Ten Coolest 1970s Wonder Woman Merchandise
The 1970s were a good time for female heroes, between Jaime Sommers, The Angels, Police Woman and Diana Prince, sisters were kicking butt like never before.
Wonder Woman was not only on prime time but a Saturday morning fixture with "The Super Friends", this combined with her comic title made her very popular with licensors in the 1970s.
Here are ten of our favorite pieces of Wonder Woman merchandise.
Gentle disclaimer: This list is purely for fun and there is nothing "official" about it unless you live in the PlaidStallions compound, which you probably don't. So if you think I'm wrong or missed something, you're not wrong and are free to disagree albeit politely.
10) Wonder Woman Kite (Hasbro 1971)
The early 1970s were kind of low points for Superhero merchandise; one of the exceptions was this series of kites which featured Superman, Batman, The Flash and Wonder Woman.
The exception is Wondy is in her ill-received powerless "Emma Peel" phase (just google it) and it may be the sole piece of merchandise that actually came from the "I-Ching" era.
9) Wonder Woman Pencil Sharpener (Alco 1975)
Alco made two different series of Superhero pencil sharpeners and they're awesome. Often , it was hard for producers of lower cost toys to produce an attractive looking Diana (and there are a couple on this list) but Alco did a great job both times.
8) Wonder Woman Roller Skates (Larami 1979)
Let's face it, these are kind of terrible but it's not like the male heroes look better by comparison and i am sure every kid who wore them fell on their face. They remain a very weird bit of Superhero kitsch that I'm glad exist.
7) Wonder Woman Beach Towel
I admit, this thing is on here because I had it as a kid (you can read that tale here) and as much as i resented it at six, I love it now.
6) Wonder Woman Underoos
You can't do a list of 1970s merch without mentioning Underoos, it's a law of some sort. Underoo's didn't forget about the ladies, Daisy Duke, Princess Leia, Spider-Woman, it was a good group!
5) Wonder Woman Car (Corgi 1979)
OK, she didn't have a car in the comics but Shazam isn't old enough to drive and he has one! Adding Wonder Woman to a line of diecast cars, primarily a boy thing, was kind of a big deal and made for an awesome toy as well. We'll gloss over that the figure in the car looks like she's a melting.....
4) Magic Lasso Jump Rope (HG Toys 1975)
A rack toy that makes perfect sense, alert the media! HG Toys put some awesome outdoor toys like the Aquaman Sea Sled, Green Arrow Archery set and Batman .....bat (okay, three out of four ain't bad) included in this assortment was this perfect, logical item.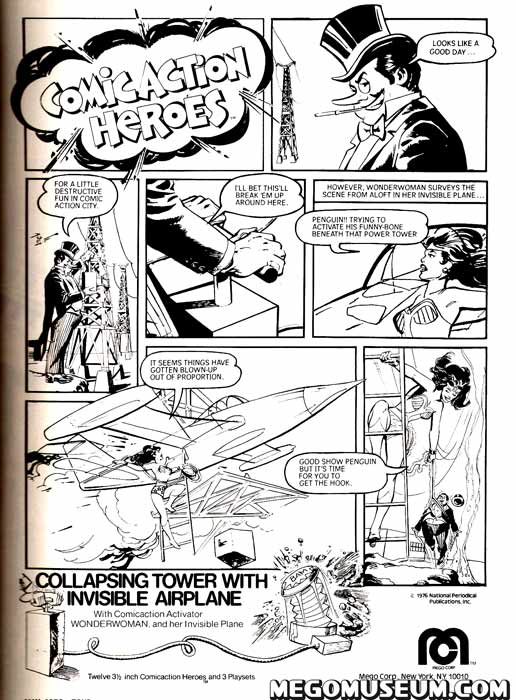 3) Comic Action Heroes Exploding Tower Playset (Mego 1975)
Mego was pretty revolutionary for introducing female characters into action figure lines, something Big Jim and GI Joe stayed away from in the 1970s. When they launched the Superhero license Wonder Woman was always a big part of the action.
This piece from the Comic Action Heroes line features Wonder Woman, her invisible jet and her arch enemy The Penguin? To be fair, Superman also got saddled with him as well so we'll over look that one oddity. Early versions of the figure looked like Alan Alda with long hair (see above) but Mego quickly retooled the figure.
2) Wonder Woman 12 inch doll series (Mego 1979)
Mego didn't pay for the likeness of Linda Carter or her other TV Stars (in fact, they had to remove her from the box) but they had the comic rights and produced a highly detailed series of 12 inch dolls. Mego even proposed a play set that sadly never came to be but in Canada, they sold Barbie style Fashion outfits for Diana Prince.
The Mego 12" Wonder Woman was under a lot of trees in the 1970s.
1) Wonder Woman Utility Belt (Remco 1979)
This innovative kit by Remco was one of the few that made absolutel perfect sense (unlike the ones for the Hulk, heck even Spider-Man's was a bit weird). While I never personally had this as a child, EVERY GIRL ON MY STREET DID. If it wasn't perfect enough, the lasso was also a jump rope. This toy should never go out of production.