Thwip! Chemtoy Spider-Man Webmaker
This is a cool rack toy I picked up recently that brings back lots of happy memories. My Dad brought this back with him from the 1978 Toy Fair and I immediately cracked it open and made a huge mess on my desk. It maybe lasted a day tops but what a cool item with beautiful art.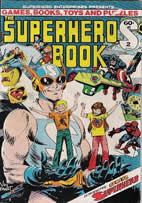 Cool toys like the web maker never got into many department store wishbooks but they did get into the Heroes World Catalogs, the Megomuseum has a comprehensive gallery of old Heroes World comics and ads.